Basketball Referee – Do You Have The Passion?
What It Takes To Be A Basketball Referee
It goes without saying that being a basketball referee is not for everyone. This is especially true in the sport of basketball, where the game and the action moves at such a fast pace of play and the fact that judgment must be instantaneous.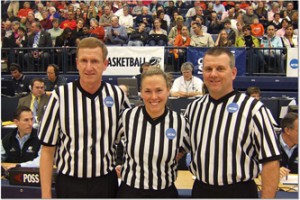 A basketball referee is really not any different from a basketball player. The passion for the sport is virtually the same. The prospective basketball referee may come from any variety of walks of life. He could have been a kid from the slums of an inner city or a privileged young man (or woman) who got to attend college and professional NBA games regularly. Regardless of background, the basketball referee-to-be is clearly of a type: he's motivated, a self-starter, a quick learner, and someone who calls it like he sees it. If you are reading this, you no doubt recognize these qualities within yourself.
Now recognizing these qualities, let's look into what exactly the responsibilities of a basketball referee are. As a basketball referee, you will have the right to control almost all aspects of the game. But with that level of power over the game comes a tremendous amount of responsibility. You will have to ensure that the game runs smoothly and make sure you are doing your part to take care of the players that you are officiating. This in itself can be as physically demanding as the player's job is. In essence, you are every bit as vital to the enjoyment of the spectators and fans as the players are. The player's job is to score points, yours is see to it that those points are scored fairly and safely.
Basketball Referee – Controlling Emotions
Perhaps ironically, one of the greatest ways that a basketball referee shows his passion for the sport is through his impassion, the ability to not let his emotions dictate how he makes a call or control the game. This is the second component of the basketball referee job, taking his emotions out of the equation.
A basketball referee obviously cannot play favorites with any team or player, nor can he allow himself to make a foul call on a player just because he doesn't like him, to do so goes against the referee's professional integrity.
Nor can the basketball referee be concerned with the cheers or the jeers of fans that get emotionally charged with his calls. The spectators do not have any responsibility to ensure the smooth play of the game. They just want to see their favorite team win. If you call a foul on a favored player that draws the ire of his fans or his teammates or even his coach, you must not let the emotion get to you. Like a lawyer representing a client, you are there to do your job without passion or prejudice. Always remember that your passion is for the game of basketball, not for the teams that are playing or the players themselves. Unlike the spectators, you DO have the responsibility over the play of the game. If spectators jeer you, remember that it's nothing personal.
Fired Up To Be A Basketball Referee?
Feeling fired up about being a basketball referee? Want to know more about how you can be a part of it? Would you like to gain tips and tools from someone who has actually been there and done that?
If the answer to the above questions was 'yes', then we have the perfect system for people just like you who dream of being the ones who ensure that smooth and rhythmic flow of play on the basketball court. The Basketball Officiating Success System draws on forty years of experience not just on the court, but also on training camps, clinics, and meetings. I can guarantee that when you apply the information that you learn with our system, you will know exactly how to achieve success in the highly competitive world of basketball officiating. You will be able to referee a game with confidence that if a college or NBA scout is watching, you will know that you are impressing him with your skills. That, my friends, is a great feeling. It's time to become a basketball referee.